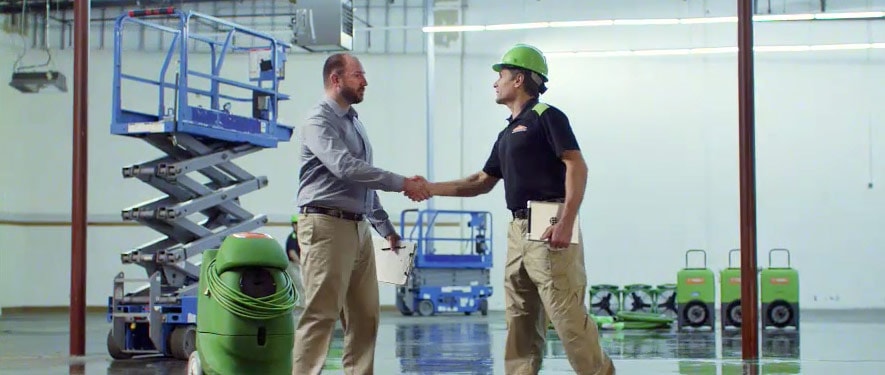 Commercial Services
You cannot afford to lose clients when your place of business is damaged. SERVPRO can restore your commercial property to the condition it was before a fire, flood or other disaster occurred.

Types of Commercial Restoration We Provide

Our expert team is ready 24 hours a day and seven days a week to respond to your emergency request. We perform a variety of water and fire damage cleanup services and remove the presence of any mold. In addition, we offer heating and cooling duct cleaning to prevent travel of airborne contaminants throughout your building.

Contact Us as Soon as Possible

The sooner you call us, that is all the less damage that would occur on your property. If possible, make sure you request help in less than 24 hours before water has time to soak into your commercial structure. Not delaying maintenance after a disaster will stop mold, mildew and other substances from thriving in moisture. It will also prevent rippling and warping, chipping, cracking, or discoloration of most building materials.

Call SERVPRO immediately if you need help restoring your property after a storm, fire or other disaster.
Small Office Buildings
Large Office/High-Rise Office Buildings
Apartment Buildings
Restaurants
Hotel/Motels
Small Retail Stores
Large Retail/Big-Box Stores
High-Rise Residential
Manufacturing & Industrial
Government/Military
Have Questions? Call Today – (212) 768-9400
Commercial Building Restoration Services
We are available 24 hours a day to get your Manhattan business back up and running. Our expertise includes restoration services for fire and water damage, including electronics restoration and document drying. We are also your business's best resource for mold remediation. Learn more about our commercial restoration services:
Commercial Building Cleaning Services
Every commercial property experiences wear and tear, including dirt and grime that accumulates from ordinary use. You can count on SERVPRO of Midtown Manhattan to make your workspace look its very best. Professional cleaning helps to protect your carpet and upholstery and increase its life-span. Learn more about our commercial cleaning services: