How to Prevent Mold Returning
1/22/2021 (Permalink)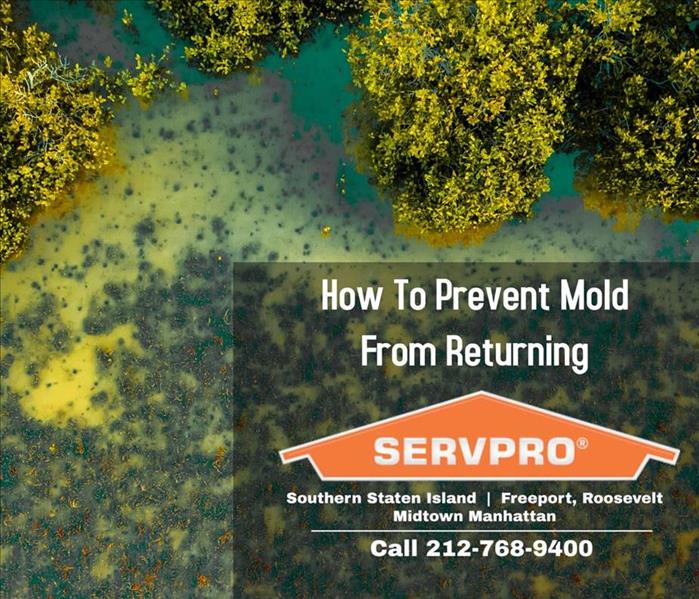 Don't waste any more time to getting rid of your mold. Follow these prevention tips to stop mold from returning.
Many NYC residents can feel overwhelmed by dealing with mold issues. Why? In addition to having to call and schedule a professional, many times mold growth can return to the same spot it was found. A very common issue for mold can still come back given the right conditions. Once mold removal has taken place, you may feel relieved, but it's important to learn from the mold outbreak. You should take the necessary measures to prevent the mold from returning.
1) Remove Any Sources of Standing Water
Any mold remediation expert can tell you that mold loves standing water. Even the smallest puddle of water can lead to an infestation. Before you end up having to call those mold removal experts again, keep an eye out for the places in your home where water is likely is end up. You might find it behind the sink, around the basement drains, or at any low point in the basement of your home. Wipe up any puddles that you find.
2) Make Sure That Your Indoor Humidity Is Less Than 45%
Mold likes to grow in humid conditions, Albany Park residents. If you can, keep your indoor humidity at less than 45%. There are things that you can do to help keep this humidity under control, such as using a dehumidifier to dry out the air. You can also open the windows on dry days to allow the air to circulate. Your mold removal experts, SERVPRO of Midtown Manhattan, can provide additional tips, and even help you pick out the best dehumidifier for your home. Our technicians want to make sure that your mold is gone for good!
3) Know How Mold Spores Get In
Mold spores can get into your home through any damp, open source, such as an air conditioner. Even central air units that haven't been cleaned and maintained properly can let this mold in. If you're worried about re-contaminating your home, before the job is complete, ask us where the mold is likely to sneak in. We you know where to look and can stop it before it starts.
4) Understand What Mold Smells Like
Our technicians will tell you that the number one sign that your home or business has a mold problem is the way that your house or business smells. Manhattan residents, mold tends to have a musky, moldy (this is the best descriptor) smell. It's very distinctive. Once you've smelled it the first time, you'll be able to recognize it again and again.
5) Keep an Eye on the Areas Most Likely To Be Affected
We've already mentioned that there are certain parts of your Manhattan home or business that are likely to be affected by mold, such as those that attract standing water. However, you should keep an eye on your bathrooms, kitchen, and basement, especially in the laundry area. These are the places that mold remediation will focus on once the invasive spores have a chance to grow. Simply watching (and sniffing the air) in these areas can help you detect mold before it really becomes a problem.
Call SERVPRO of Midtown Manhattan today to discuss your mold remediation by calling our office at 212-768-9400